We'd like to express our thanks for the very good job you have made in fitting the carpets in the porch, vestry and classrooms of our church, I would also like to express my thanks for your co-operation in fitting the carpets in two visits. This was really helpful for us and is much appreciated.
Many people who have come into our church have commented on how well the carpets look and how much they have improved our building.
When we need any further carpets we will have no hesitation in coming back to you for these.
Once again many thanks for a job well done.


- Geoff Briggs, the Treasurer of The Methodist Church, Thornton Bradford.

Just like to thank you for the excellent service. We have had two bad experiences with carpets, wish we have found you earlier. You will be highly recommended.
Thanks again.


- Mr & Mrs Dickinson, Shelf.


I would like to thank all the staff at your premises for the excellence of their work. I had my kitchen fitted with Ulster Glenshane and Armstrong Vinyl. I chose the same carpet for the sitting room, which you were able to obtain in a 15-foot width. One gentleman came to both fittings; another took my second order, measured and came to the second fitting. All were exceedingly helpful. The care taken to match the direction of pattern of the sitting room with the kitchen was extremely reassuring, and the staff was always courteous.
Need I ad that I am very satisfied and will recommend you whenever I have the opportunity.

- Derek Soothill, Bradford.


We have moved house on three occasions during the last 20 years and on each occasion used Chappells Carpets for our requirements and subsequent upgrades.
Brilliant service, we would not even consider using another supplier.

- P. Hubbard, Baildon.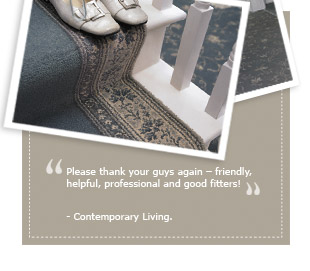 A big thank you for a job well done. We won't hesitate in recommending you to anyone who wants a quality carpet and service.
Thanks again.


- Mr & Mrs Ramsden, Huddersfield.


My wife and I have no hesitation in recommending Chappells Carpets. We have always been impressed by their sound advice, their friendly staff, their reliability and their skill in fitting of all types of carpet and floor coverings.
With a large selection of carpets and vinyls in their showroom, you don't need to look anywhere else.


- Revd Tony Mills.