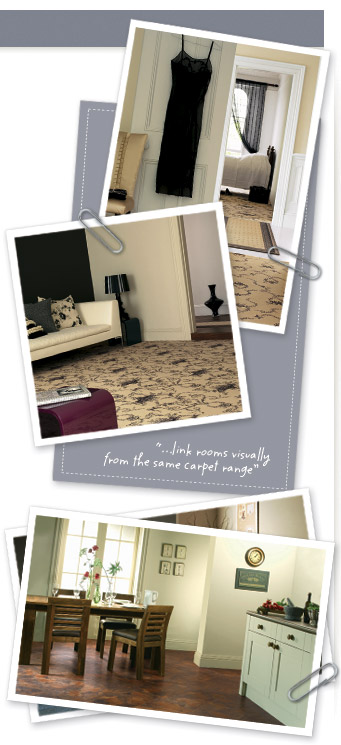 We will happily fit any type of carpet into any room that you wish but below is a guide to what we feel are the best choices for each area of your house.

These rooms really need a good quality, heavy duty wool carpet due to the high-traffic volume normally associated with these areas of your home.
For a Plain carpet it is recommended to go for upwards of 50oz to withstand the main walkway in the area. All wool Axminster and Wilton carpets would be suitable for these areas and the more patterned it is, the more likelihood it will hide everyday dirt and spills. Velvet carpets, even though suitable for these areas tend to show all footprints and marks and can be annoying for some people. Natural looking carpets again are suitable for this area but are not recommended for Staircases or if you have animals due to the fact that most natural carpets are Loop pile and can be easily pulled by animals that have sharp claws. Nylon carpets are suitable if you have a small budget or if there is light traffic going through these areas.


All types of carpets are suitable for these areas as it is not considered to be a major traffic area.
However, main bedrooms do require a heavy, better quality carpet, as they do get more wear than guest/spare bedrooms. Dependent on the number of children in the house and their age, sometimes a Nylon carpet can be ideal as they are bleach-treatable, therefore more practical and are a cheaper alternative to Wool, making them affordable to replace if need be.


The best tpes of flooring in these areas are either Vinyl or Karndean. This is due to the fact that most spills either water (in a bathroom) or food spills (in a kitchen) can be easily cleaned up as this type of flooring is wipable and any liquid or moisture is not absorbed like a carpet. Vinyl or Karndean finishes a Kitchen or Bathroom off nicely.